Olympus posts $620 million annual loss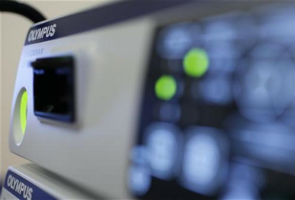 Olympus on Thursday posted a $620 million loss in the fiscal year to March after a cover-up at the camera and medical equipment maker which hammered Japan's corporate-governance image.
The firm said it lost 48.99 billion yen ($620 million) in the period, after a scandal that sparked lawsuits and the arrest of former executives accused of hiding about $1.7 billion in losses.
Olympus said the annual loss, which reversed a small profit of 3.87 billion yen in the year earlier and was bigger than forecast, was largely attributed to costs related to the damaging cover-up.
The company, which declined to give an earnings forecast for the current fiscal year, booked sales of 848.55 billion yen in the latest period, up 0.2 percent from the previous year.
Last month, Olympus held a tense shareholders' meeting where angry investors peppered company executives with questions about the cover-up, while the firm's ousted former boss, who exposed the scandal, threatened court action after the firm's choices for a new board were approved.
Some of Olympus' foreign shareholders and its whistleblowing former chief Michael Woodford were angered by the slate of directors, whom they derided for their lack of experience or previous connections to the disgraced company.
With the bulk of Olympus shares held by large Japanese institutional investors, who are typically unwilling to rock the corporate boat, the board had been expected to be approved.
But the nominees sparked anger among some foreign investors who argued their connections to major Japanese banks -- also Olympus creditors -- was a conflict of interest, while they also had little experience running the company.
In March, the company and three former senior executives -- including ex-president Tsuyoshi Kikukawa -- were charged over their role in the cover-up.
If found guilty, the firm faces up to 700 million yen in fines, while the executives each face up to 10 million yen in fines and a decade in prison.
The firm initially denied allegations its had used past acquisition deals and outsized consultant fees to move huge losses dating back to the 1990s off its balance sheet, but eventually admitted wrongdoing.
For the latest tech news and reviews, follow Gadgets 360 on Twitter, Facebook, and subscribe to our YouTube channel.
SOURCE :https://gadgets.ndtv.com/cameras/news/olympus-posts-620-million-annual-loss-223464
Olympus posts $620 million annual loss
Reviewed by
Mohamed
on
December 05, 2017
Rating: